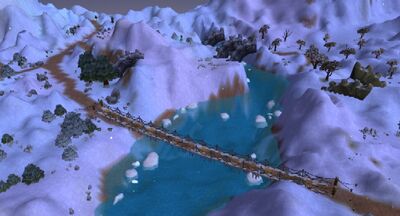 Azria
is the most popular leveling area in Demon Flyff. It is used by anyone to fight from Lv. 70 onwards, up to Lv. 115. The experience gained here is 20% more than the normal mobs in Madrigal.
It is also used as farming ground, as there are loads of mobs in Azria. An Azria Ticket is purchasable at the Demon CS Seller in Central Flaris (Now affects .10% tax).
Day ticket: 1.500.000 penya
Week ticket: 9.000.000 penya
15-Day ticket: 16.000.000 penya
~ added tax effect on azria's cost : Jealousy/Minotoro ~
Money making in Azria
Edit
Tankers, that are players with lots of Life, tank in Azria.
Why?
Simple! Monsters drop around 80~150,000 penya each! Not to mention the insane drop rate! Also, leveling there is a great place to earn money and items.
Attention: Azria Monsters DO NOT drop Green Weapons, but they drop Green Armor (60 - 105 accordingly to level of mobs [ex. Yetti drops 60-75sets, Augi drops 60-75 sets, Kings drops 75-90sets, Mammoth drops 90-105sets]), Quest Items and Blue Weapons (ex. hotter swords and other level 120 weapons that are required to make a bloody weapon).
~ edit penya drop, added descriptions and examples : Jealousy/Minotoro ~
Masquerpets in Azria
Edit
The Masquerpets here are from Level 73, which is the Yetti, to Level 115, which is the Cannibal Mammoth.
All Masquerpets in Azria use melee attacks only.
The Masquerpets are as following:
Yetti (Lv. 73)
Mutant Yetti (Lv. 79)
Ghost of Forgotten Prince (Lv. 97)
Ghost of Forgotten King (Lv. 103)
Cannibal Mammoth (Lv. 115)
Map of Azria
Edit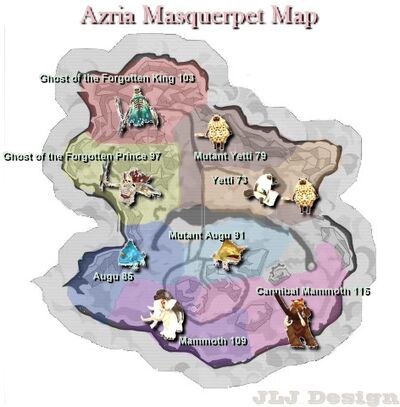 ~Created, edited and hosted by xCloudy, edited and revised by Ragned